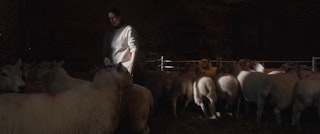 DIRT ASH MEAT
Written and Directed by SIÔN THOMAS
Produced by CATRIN LEWIS DEFIS

During the devastating foot and mouth outbreak of 2001, Rhian and her brother Dewi struggle to keep the Welsh hill farm they inherited from their father running. As the disease reaches their doorstep Rhian tries to control her increasingly unstable brother.

Inspired by the novel "White Ravens" by Owen Sheers.
Funded by Ffilm Cymru and the BBC.
Broadcast on BBC Wales on the 4th of September 2020.
12 Minute Short
Watch Dirt Ash Meat on iPlayer here: https://www.bbc.co.uk/iplayer/episode/m000m9l0/beacons-short-films-from-wales-series-1-2-dirt-ash-meat

SCREENINGS
AESTHETICA SHORT FILM FESTIVAL 2019 (UK) - Official Selection
BRITISH COUNCIL LITERATURE FESTIVAL 2021 - Official Selection
BRITISH SHORTS FILM FESTIVAL BERLIN 2020 (GERMANY) - Official Selection
CARDIFF MINI FILM FESTIVAL 2020 (WALES) - Official Selection - Winner - Best Fiction Short
CARMARTHEN BAY FILM FFESTIVAL 2020 (WALES) - Official Selection
DAM SHORT FILM FESTIVAL 2020 (USA) - Official Selection
EXIT 6 FILM FESTIVAL 2019 (UK) - Official Selection
FASTNET FILM FESTIVAL 2020 (IRELAND) - Official Selection
HAMILTON FILM FESTIVAL 2019 (CANADA) - Official Selection - Winner - Best Emerging Director Award
JELLYFEST FILM FESTIVAL 2020 (USA) - Official Selection
KINOFILM FESTIVAL 2020 (UK) - Official Selection
MIDDLEBURY NEW FILMMAKERS FESTIVAL 2019 (USA) - Official Selection
MILLEDGEVILLE + EATONTON FILM FESTIVAL 2020 (USA) - Official Selection
NEWPORT BEACH FILM FESTIVAL 2020 (USA) - Official Selection
THIS IS ENGLAND 2019 (FRANCE) - Official Selection